THE complementarity of Angus and Santa cattle works well for Maranoa (Queensland) beef farmers James and Natalie Stinson and their family.
The Stinsons own and operate Moonya and the adjacent Tannaby property, near Mt Abundance, 60km southwest of Roma, running a stocking and backgrounding operation that puts out Angus x Santa and Santa feeder cattle x Angus.
Their genetic decisions stem from a desire to produce a true-to-type animal with a consistency that lends itself to marketing cattle lines to the feeder market.
"The (mixed race) are a totally marketable item in this part of the world. They are adaptable to general conditions and there is always someone who wants them, be it a backgrounder or a lotfeeder, or NSW restocker growers.
They also present well because they don't have huge variations, they all look the same and that definitely gives them a line," James said.
"We really try to focus on one specific type of beast and the Angus breed is pretty good on that front. We have a picture in our mind of what we are looking for," he said.
"More recently we have targeted growth and weight for age and temperament is a consideration. We find that poor temperament influences their own growth," Natalie said.
Resilience
By running a crossover program, the Stinsons feel they are achieving a degree of resilience to handle extremes, with Mount Abundance regularly experiencing above 40C during summer days and below freezing during winter. .
"At the end of the day, we're in Queensland, we don't have reliable rainfall and it's hot as well as cold and dry. We get all the extremes. If the buffalo grass freezes, it loses its protein and the cattle still have to perform. It's that overall ability, the one where we find advantages with crossbreeding," James said.
No Tolerance Approach
Ideally joining 900 females each year, the Stinsons run their females in mixed-age mobs of 80 for ease of management and are crossbred (Angus bulls to Santa cows, Santa bulls to Angus cows) for 12 weeks from mid- November each year.
"We structure our entire breeding program around no lactation over winter and then join in to start calving in late August, early September," James said.
"For us, it's about raising, keeping our replacement heifers, selecting what we like or what we have evolved into what we like, and what we know how to do well. Fertility is the number one priority," Natalie said.
Replacement heifers are joined for the first time as yearlings, and anything that is not a calf on pregnancy testing is culled.
"There are no second chances when it comes to fertility. If a heifer is not in foal, we are not interested in her," James said.
This no-tolerance approach has yielded results for Stinsons, with pregnancy test results consistently above 80%, with yearling heifers returning 89pc PTIC and cows (including breeding stock) ranging from 86pc to 87 pc.
"We are satisfied with these results. You always want more, but they have to have a little pressure and if you don't put that little pressure on, you're not improving what you have by taking the bottom off. It also helps with cash flow," Natalie said.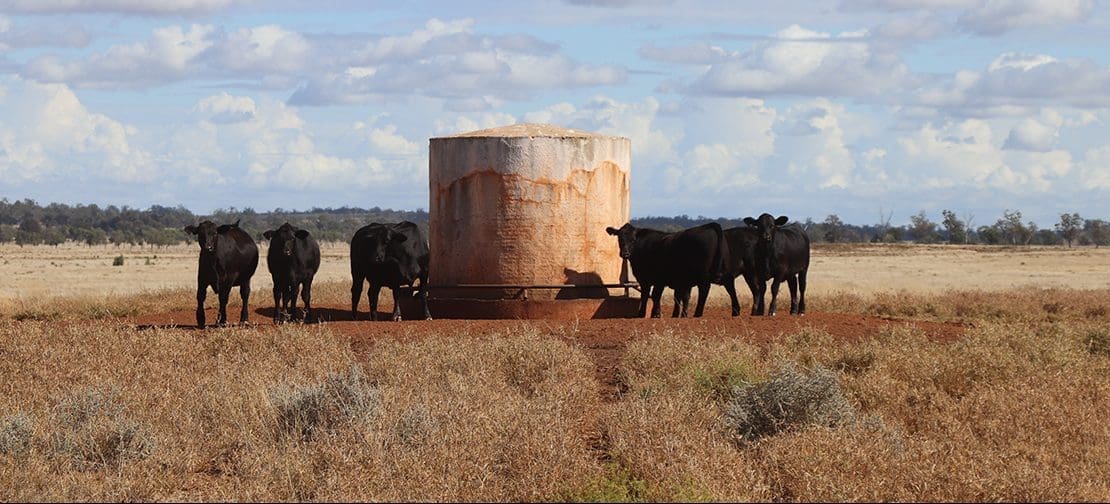 Like many producers, James and Natalie's business has been shaped significantly by drought and as a result recent selection of replacement heifers has been primarily based on quantity.
"We are just trying to recover from the drought of 2019 which was quite ordinary and find the balance between restoring our number of breeders, selecting replacements and shortening our membership period, coupled with constraints time management," James said.
By shortening their entry period, the Stinsons hope to tighten calvings and once again achieve greater regularity in their calf drop.
Smaller calves that are born a little later tend not to match the clear lines that we usually see in our herd. If we get closer and have tighter age groups at weaning, it will give us clearer marketing options with a deteriorating season, with management and with everything involved in breeding." , said James.
"We have noticed that our Angus cows in particular have a very tight calving window, even coming out of the drought. Their window has tightened and their average calving date is ideal," he said.
Traditionally, replacement heifers at Moonya were selected on a minimum weight of 320 kg, which was deemed to work well. However, for the past two years, James and Natalie have been looking for numbers to rebuild their herd of females and as a result have only culled those animals that came back empty and that they "couldn't handle".
"That's what we did in the recovery phase, but we'd like to go back to that minimum weight criteria and also have an external grader grade the heifers," Natalie said.
Drought mitigation
The Stinsons' experience during the 2019 drought also led them to begin planning major infrastructure works to better enable them to feed livestock during times of drought.
"In the previous drought, we sold everything out and then it was just too hard to come back. To get the numbers and the genetics we wanted took years, a lot of money and a lot of breeding."
"During the 2019 drought we decided to feed, we still wanted to have cattle at the end, and it worked in some ways, not others, and it taught us a lot," James said.
As a result, the Styinsons set up a feeding program to move forward, with planted sorghum for silage and dug bunkers, silos for pellets or grain, a feed mixer and self-feeders. purchased, a hay shed constructed and oats planted for hay.
"In theory, this allows us to keep a herd of 500 main cows and feed them for 400 to 500 days," Natalie said.
"It's about preserving those genetics. We put some time into it, time is probably the biggest investment, and we put money into it. We found out that you can't just go to the market and redeem that cow in a jiffy," James said.
Focus on days to calving
In addition to a greater selection of replacement heifers and tighter entry periods, the Stinsons are also placing greater emphasis on their sire selection.
"We buy all our bulls. This is the only opportunity you have each year to introduce new genetics to stir the pot, otherwise your gene pool becomes too small," James said.
"We mainly look at fertility. I really like the EBV that the Angus Society has for Days to Calving, and it gives an indication of redesign rates, which is basically what we've been trying to achieve.
"They have to have a calf, raise it and come back as a calf in 365 days. So that fertility trait is a top priority, so that's been our main focus for the past few years," he said.
"Docile, structure and growth are also of great importance to us. We use the figures for reference and guidance, but the final decision is made on visual assessment. We just follow the data and if a bull has all the numbers, then we ask, "Do we like his look?" How is his temperament?' ".
Particular attention is also paid to birth weight EBVs, with James and Natalie agreeing that this is a major consideration and therefore they don't have much difficulty calving.
All bulls have their BullCheck assessment completed before joining each year and bulls are joined at a ratio of 1:40 which means two bulls per 80 cow crowd. A concerted effort is being made to ensure Moonya's bull herd remains a young herd.
Bull management
In terms of managing the acclimatization of these bulls, regardless of where they were purchased, James believes basic management is key.
"It doesn't matter where they come from, you have to look after them a bit, their environment has changed regardless, their diet has changed regardless. At the end of the day, they're bulls – they're there to do a job. I think that no matter if it was a scorching heat wave or ice cover, if there was a job to do, they would still go and do it. We had no problem with them and they continue their work," he said.
The Stinsons feel quite satisfied with the feeder item they are currently breeding and are receiving this feedback from feedlots who purchase their male offspring.
Weaned on oats at around 270 kg, steers make gains of 1.2 kg/day to 1 kg/day depending on feed quality and are sold to the feeder market usually through the sale in enclosures or occasionally via sales parks.
In terms of boundaries, hair is a concern for the Stinsons, and they feel they gain adaptive benefits through crossbreeding and getting a smoother coat.
"At the end of the day, it's a Bos Taurus genotype, there will always be a challenge when it comes to Queensland conditions, but the positives are the weight gain, their polledness and their temperament.
"We all hate dehorning but 70% of our calving herd is now polled, we would like to see less polled and we will achieve that using Angus genetics," he said.
Next steps
When asked what's next for the Moonya Agriculture operation, the Stinsons said there were several driving factors.
Infrastructure and preparing for the next drought is a key focus, but James and Natalie also believe it helps achieve that next 1pc increase in production, as well as recovering the quantity and quality of their breeding herd. .
They are currently involved in a phosphorus supplement trial with the Queensland Department of Agriculture and Fisheries, aiming to see if greater phosphorus availability has an impact on pregnancy rates.
"We're always pushing for more, earning that extra 1pc and I guess that's where that phosphor work comes in, just trying to push a little bit harder and trying to take advantage of it.
"I think we've covered most things and the trajectory is good," James said.